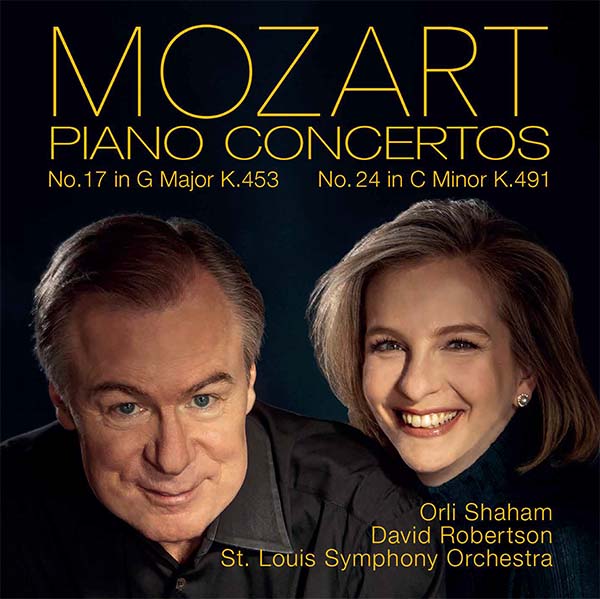 Mozart Piano Concertos
Pianist Orli Shaham revels in the theatrical richness and breath-taking invention of Mozart's Piano Concertos joining forces with David Robertson and the St. Louis Symphony Orchestra for this studio recording of No. 17 in G Major, K.453 and No. 24 in C minor, K.491.
Mozart Piano Concertos
Pianist Orli Shaham revels in the theatrical richness and breath-taking invention of Mozart's Piano Concertos joining forces with David Robertson and the St. Louis Symphony Orchestra for this studio recording of No. 17 in G Major, K.453 and No. 24 in C minor, K.491.
---
Click the image below to read the liner notes.
Mozart Piano Concertos
No. 17 in G Major K.453
No. 24 in C Minor K.491
Orli Shaham
David Robertson
St. Louis Symphony Orchestra
---
MOZART IN CONVERSATION
Orli Shaham, David Robertson, and Elaine Sisman discuss Mozart
Much has been written on Mozart, including on the two piano concertos recorded here. Almost anything one might want to know about both of these concertos can be found either online or through your local library, so rather than repeat others' scholarship to give you some context for these new recordings, we have instead put soloist Orli Shaham, conductor David Robertson, and Mozart expert Elaine Sisman in a room to discuss these concertos from a slightly different perspective. Their conversation – edited, condensed, and contextualized into this format-ranges from ideas on how to listen to Mozart and Mozart's use of variation all the way to how drama and opera informed and permeated everything Mozart penned.
– Peter Dahm Robertson
The Cast:
Elaine Sisman is a bona fide academic authority on Mozart's music and history by day. But mostly, you get the sense that she simply thinks Mozart is really cool, and she wants to share that with you. If she told you, "Oh, this is interesting, you'll be glad you read this," you would believe her, rather than bracing yourself to look awake.
Orli Shaham is an accomplished pianist, and most of that is due to her incredible gift for paying attention. That sounds trite, but sustained focus can be very powerful indeed, and in her case, it informs not just musical phrasing and collaboration, but also how she listens to ideas and brings them back into conversation.
David Robertson has a mind that is constantly connecting different ideas, metaphors, and levels of thinking. He makes music in the same thoughtful way: weaving often quite complex parts into a coherent larger narrative that connects every single note across the entire piece.
Mozart's music can be very frustrating. Try explaining Beethoven to someone who's never heard his music before, and you'll probably talk about dramatic symphonies with a big, loud orchestra. If you're explaining Bach, you'll probably talk about complex voices intertwining. Rock music, and you'll talk about a driving beat. But it feels like the most meaningful thing we can say about Mozart's music is that it's, well, Mozart. Many of the pieces are so familiar that it's hard to imagine them any other way. Of course, Mozart was just very good at the basic craft of composing, so what he wrote down is often the perfect version of what it's trying to be. There are no notes too many, but none too few, either. But there's more to it than that. Whatever else Mozart may be, he's somehow Mozart first, and we all have a basic idea in our heads of what that sounds like, without really being able to explain what it means. So whenever we talk about his music, we instinctively look for ways to help us think about his music, to "get into its head."
Orli: A lot of times we listen to the music and it just makes sense to us as music, but we've lost the ability to connect all the different layers of it that Mozart would have had.
David: We're so distant from the references that a normal audience member would have gotten at the time.
In other words, we're very far from Vienna in the late 1700s, so to really get into Mozart's music, we may need to listen for particular things, or get ourselves in a particular mindset. When Mozart first played his concertos [he wrote them for himself to perform in public], the public had never heard them before. That sounds obvious, but not only had they never heard them, they had no way of hearing them again unless he played them again-hence the idea of the encore. They didn't grow up with music in the background on the radio or the TV, much less YouTube. If you wanted music, you had to make it, visit it, or pay a musician. What would it feel like to listen to Mozart's music "fresh," and to know that you were listening to modern music? Elaine, who teaches college students, knows that what your ears are expecting and are used to makes a huge difference here. That's why she's interested in finding out what the frame of reference for an audience of the time would have been, and in trying to understand the music from that angle.
Elaine: You get context for something like hunting themes. Or everyone danced. You didn't have to be in society to dance. They had public balls with different kind of dances. You could have quotations, where suddenly you'd move into a dance passage. It's not that dissimilar to students knowing AC/DC. And not many of my students know AC/DC, they listen to Kanye!
One way of addressing the gulf between the 1700s and today is known as Historically Informed Performance. It emerged in the 1960s and 70s, when people started to think seriously about ways to recapture what music sounded like when it was first played. Musicians examined historical treatises on instrument building, performance techniques, and stylistic instruction in an effort to avoid applying more "modern" tastes and techniques to older music. This movement evolved to a point where [just like Mozart]. Historically Informed Performance has almost become its own genre, with an instantly recognizable sound.
---
ORLI SHAHAM, piano
A consummate musician recognized for her grace and vitality, Orli Shaham has established an impressive international reputation as one of today's most gifted pianists. Hailed by critics on four continents, Ms. Shaham is in demand for her prodigious skills and admired for her interpretations of both standard and modern repertoire. The New York Times called her a "brilliant pianist," The St. Louis Post-Dispatch has praised her "wit, passion, delicacy," and The Chicago Tribune referred to her as "a first-rate Mozartean."
Orli Shaham's performance schedule brings her to concert halls from Carnegie Hall to the Sydney Opera House and most of the major venues in between, for recitals, chamber music and concerti. Ms. Shaham has performed with nearly every major American orchestra, as well as many in Europe, Asia, and Australia. A frequent guest at summer festivals, her appearances include Tanglewood, Ravinia, Verbier, Mostly Mozart, and Aspen. Equally devoted to the intimate genre of chamber music, Ms. Shaham serves as curator and performer in Pacific Symphony's chamber music series in Costa Mesa, California.
Ms. Shaham's wide variety of repertoire is reflected in her discography, which includes Brahms Inspired [CC15), featuring new works by Brett Dean, Avner Dorman, and Bruce Adolphe alongside music by Brahms and his compositional forefathers, and American Grace [CC11] including the world premiere recording of Steven Mackey's piano concerto Stumble to Grace with the Los Angeles Philharmonic, conducted by David Robertson. Other recordings are Nigunim, Hebrew Melodies (CC1O] with her brother, the violinist Gil Shaham, which includes the world premiere of Nigunim by Avner Dorman, commissioned by Orli and Gil Shaham; Saint-Saens' Carnival of the Animals with the pianist Jon Kimura Parker and the San Diego Symphony; and John Adams' Grand Pianola Music with pianist Marc­Andre Hamelin and San Francisco Symphony led by Michael Tilson Thomas (SFS0063]. Orli and Gil Shaham have collaborated on other recordings including Dvořák for
Two, The Prokofiev Album [CC02], and Mozart in Paris (CC01].
Driven by a passion to bring classical music to new audiences, Orli Shaham maintains an active active parallel career as a respected broadcaster, music writer, and lecturer. On radio, she has hosted the nationally broadcast Dial-a-Musician and America's Music Festivals series, and served as artist in residence on National Public Radio's Performance Today and as guest host on NPR's From the Top.
Inspired by her enthusiasm for introducing young children to the pleasures of music, Ms Shaham created Orli Shaham's Bach Yard (formerly Baby Got Bach), a series of classical concerts for young children which has a devoted following across the United States.
For more: orlishaham.com
---
DAVID ROBERTSON, conductor
David Robertson-conductor, artist, thinker, and American musical visionary-occupies some of the most prominent platforms on the international music scene. A highly sought-after podium figure in the world of opera, orchestral music, and new music, Robertson is celebrated worldwide as a champion of contemporary composers, an ingenious and adventurous programmer, and a masterful communicator whose passionate advocacy for the art form is widely recognized.
Robertson has served in numerous artistic leadership positions, such as Chief Conductor and Artistic Director of the Sydney Symphony Orchestra, and a transformative 13-year tenure as Music Director of the St. Louis Symphony Orchestra, where he solidified its status as among the nation's most enduring and innovative ensembles, established fruitful relationships with a spectrum of artists, and garnered a 2014 Grammy Award for the Nonesuch release of John Adams' City Noir. Earlier artistic leadership positions include at the Orchestre National de Lyon; as a protégé of Pierre Boulez, the Ensemble lnterContemporain; as Principal Guest at the BBC Symphony Orchestra; and as a Perspectives Artist at Carnegie Hall, where he has conducted numerous orchestras. He appears regularly with the Royal Concertgebouw Orchestra, Czech Philharmonic, Bayerischer Rundfunk, and other major European orchestras and festivals. Robertson continues a longstanding and rich collaboration with the New York Philharmonic and conducts numerous North American orchestras, including the Montreal Symphony Orchestra, Cincinnati and Dallas Symphony Orchestras, and the Juilliard Orchestra, where he serves as Director of Conducting Studies, Distinguished Visiting Professor.
Robertson continues to build upon his deep conducting relationship with The Metropolitan Opera, including James Robinson's premier production of Porgy and Bess [2019]. and the premier of Phelim McDermott's celebrated production of Così fan tutte [2018].
Since his 1996 Met Opera debut, The Makropulos Case, he has conducted a breathtaking range of projects, including the Met premiere of John Adams' The Death of Klinghoffer [2014]; the 2016 revival of Janáček's Jenůfa; and many favorites. Robertson has frequent projects at the world's most prestigious opera houses, including La Scala, Théâtre du Châtelet, and San Francisco and Santa Fe Operas.
Robertson is the recipient of numerous musical and artistic awards, and in 2010 was made a Chevalier de l'Ordre des Arts et des Lettres by the Government of France. He is devoted to supporting young musicians and has worked with students at festivals ranging from Aspen to Tanglewood to Lucerne.
For more: conductordavidrobertson.com
---
ST. LOUIS SYMPHONY ORCHESTRA
Celebrated as one of today's most exciting and enduring orchestras, the St. Louis Symphony Orchestra is the second-oldest orchestra in the United States. Widely considered one of the world's finest, the SLSO maintains its commitment to artistic excellence, educational impact, and community connections – all in service to its mission of enriching lives through the power of music.
In addition to its regular concert performances at Powell Hall, which has been the permanent home of the SLSO for more than 50 years, the orchestra is an integral part of the diverse and vibrant St. Louis community, presenting free education programs and performances throughout the region each year.
The Grammy Award-winning SLSO's impact beyond the St. Louis region is realized through weekly Saturday night concert broadcasts on St. Louis Public Radio, acclaimed recordings, and regular touring activity. A sought-after artistic partner by preeminent musicians and composers from across the globe, as well as by local and national organizations, the SLSO enjoys a long history of robust and enduring artistic collaborations that have developed and deepened over the years.
American conductor David Robertson was the 12th Music Director in the orchestra's history and solidified the SLSO's standing as one of the nation's most vital and innovative ensembles. Robertson's remarkable 13-year tenure with the SLSO concluded in May 2018.
For more: slso.org
---
This recording is made possible with the generous assistance and support of Noemi and Michael Neidorff
Recording Producer and Editor: Erica Brenner
Sound Engineer: Paul Hennerich
Mastering: Paul Blakemore
Piano technician: Barbara Renner
Annotations, interview editing, and contextualization:
Peter Dahm Robertson
For the St. Louis Symphony Orchestra: Erik Finley
Original Recording 24 bit/ 96kHz
Recorded on November 14 2017 and January 24 2018.
Powell Hall, St. Louis, Missouri, USA.
®2019 Canary Classics LLC,
under license from St. Louis Symphony Orchestra,
©2019 Canary Classics LLC
Orli Shaham is a Steinway Artist