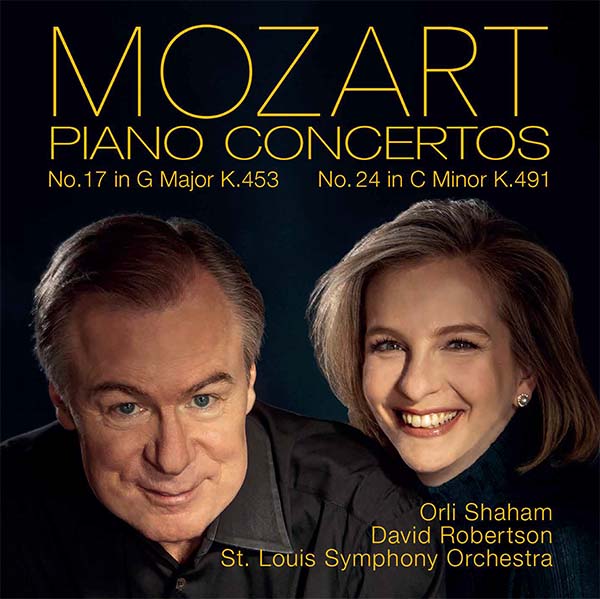 Mozart Piano Concertos
Pianist Orli Shaham revels in the theatrical richness and breath-taking invention of Mozart's Piano Concertos joining forces with David Robertson and the St. Louis Symphony Orchestra for this studio recording of No. 17 in G Major, K.453 and No. 24 in C minor, K.491.
Mozart Piano Concertos
No. 17 in G Major K.453
No. 24 in C Minor K.491
Orli Shaham
David Robertson
St. Louis Symphony Orchestra
---
MOZART IN CONVERSATION
Orli Shaham, David Robertson, and Elaine Sisman discuss Mozart
Much has been written on Mozart, including on the two piano concertos recorded here. Almost anything one might want to know about both of these concertos can be found either online or through your local library, so rather than repeat others' scholarship to give you some context for these new recordings, we have instead put soloist Orli Shaham, conductor David Robertson, and Mozart expert Elaine Sisman in a room to discuss these concertos from a slightly different perspective. Their conversation – edited, condensed, and contextualized into this format-ranges from ideas on how to listen to Mozart and Mozart's use of variation all the way to how drama and opera informed and permeated everything Mozart penned.
– Peter Dahm Robertson
The Cast:
Elaine Sisman is a bona fide academic authority on Mozart's music and history by day. But mostly, you get the sense that she simply thinks Mozart is really cool, and she wants to share that with you. If she told you, "Oh, this is interesting, you'll be glad you read this," you would believe her, rather than bracing yourself to look awake.
Orli Shaham is an accomplished pianist, and most of that is due to her incredible gift for paying attention. That sounds trite, but sustained focus can be very powerful indeed, and in her case, it informs not just musical phrasing and collaboration, but also how she listens to ideas and brings them back into conversation.
David Robertson has a mind that is constantly connecting different ideas, metaphors, and levels of thinking. He makes music in the same thoughtful way: weaving often quite complex parts into a coherent larger narrative that connects every single note across the entire piece.
Mozart's music can be very frustrating. Try explaining Beethoven to someone who's never heard his music before, and you'll probably talk about dramatic symphonies with a big, loud orchestra. If you're explaining Bach, you'll probably talk about complex voices intertwining. Rock music, and you'll talk about a driving beat. But it feels like the most meaningful thing we can say about Mozart's music is that it's, well, Mozart. Many of the pieces are so familiar that it's hard to imagine them any other way. Of course, Mozart was just very good at the basic craft of composing, so what he wrote down is often the perfect version of what it's trying to be. There are no notes too many, but none too few, either. But there's more to it than that. Whatever else Mozart may be, he's somehow Mozart first, and we all have a basic idea in our heads of what that sounds like, without really being able to explain what it means. So whenever we talk about his music, we instinctively look for ways to help us think about his music, to "get into its head."
Orli: A lot of times we listen to the music and it just makes sense to us as music, but we've lost the ability to connect all the different layers of it that Mozart would have had.
David: We're so distant from the references that a normal audience member would have gotten at the time.
In other words, we're very far from Vienna in the late 1700s, so to really get into Mozart's music, we may need to listen for particular things, or get ourselves in a particular mindset. When Mozart first played his concertos [he wrote them for himself to perform in public], the public had never heard them before. That sounds obvious, but not only had they never heard them, they had no way of hearing them again unless he played them again-hence the idea of the encore. They didn't grow up with music in the background on the radio or the TV, much less YouTube. If you wanted music, you had to make it, visit it, or pay a musician. What would it feel like to listen to Mozart's music "fresh," and to know that you were listening to modern music? Elaine, who teaches college students, knows that what your ears are expecting and are used to makes a huge difference here. That's why she's interested in finding out what the frame of reference for an audience of the time would have been, and in trying to understand the music from that angle.
Elaine: You get context for something like hunting themes. Or everyone danced. You didn't have to be in society to dance. They had public balls with different kind of dances. You could have quotations, where suddenly you'd move into a dance passage. It's not that dissimilar to students knowing AC/DC. And not many of my students know AC/DC, they listen to Kanye!
One way of addressing the gulf between the 1700s and today is known as Historically Informed Performance. It emerged in the 1960s and 70s, when people started to think seriously about ways to recapture what music sounded like when it was first played. Musicians examined historical treatises on instrument building, performance techniques, and stylistic instruction in an effort to avoid applying more "modern" tastes and techniques to older music. This movement evolved to a point where [just like Mozart]. Historically Informed Performance has almost become its own genre, with an instantly recognizable sound.
---
This recording is made possible with the generous assistance and support of Noemi and Michael Neidorff
Recording Producer and Editor: Erica Brenner
Sound Engineer: Paul Hennerich
Mastering: Paul Blakemore
Piano technician: Barbara Renner
Annotations, interview editing, and contextualization:
Peter Dahm Robertson
For the St. Louis Symphony Orchestra: Erik Finley
Original Recording 24 bit/ 96kHz
Recorded on November 14 2017 and January 24 2018.
Powell Hall, St. Louis, Missouri, USA.
®2019 Canary Classics LLC,
under license from St. Louis Symphony Orchestra,
©2019 Canary Classics LLC
Orli Shaham is a Steinway Artist